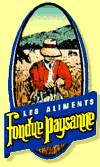 764, Chemin Olivier
Bernières Industrial Park
St-Nicolas (Québec) Canada
G7A 2N2
Tél. : (418) 831-9397
Téléc. : (418) 831-1091
CORPORATE HISTORY
Les Aliments Fondue Paysanne inc. was founded in August of 1980, in the Kitchen of a restaurant called St-Claud, located on Québec City's rue Cartier. Its humble beginnings were short-lives as, within a year, the company was already enjoying phenomenal growth.
Its founder and president, Jean-Marie Dionne, soon discovered the enormous potential of then undeveloped market for Parmesan Fondue. Hence, the company was established in Saint-Nicolas in 1981 and, within three years, its sales figure tripled.
In 1984, Mr. Dionne chose to relocate Les Aliments Fondue Paysanne in Saint-Etienne, in an effort to keep up with the ever-increasing demand for his product. Spurred by the amazing popularity of Parmesan Fondue, the company introduced four new products: seafood fondue, garlic spread, grated cheese product and freshly-minced garlic in oil.
A few years later, the company was once again outgrowing its premises, wich led to the acquisition, in 1989, of a 4,100 square foot plant in Saint-Emile, while still producing the same quality products as in Saint-Etienne, the new facilities also served as a food research laboratory. Les Aliments Fondue Paysanne was then able to improve the quality control and distribution of its products.
In 1991, in order to solve its space problems once and for all, the company decided to invest $1.2 million in the construction of a new plant, this one spreading over 12,000 square feet, in St-Nicolas, right alongside Highway 20 in Bernières industrial park. This new location is outfitted with sophisticated equipment, half of which was designed by a Quebec engineering firm, and offers the possibility of tripling its surface area in view of future expansion.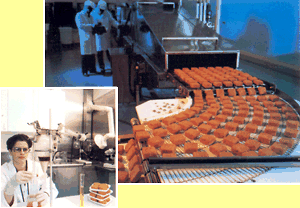 Enjoying sustained growth and a solid reputation. Les Aliments Fondue Paysanne has increased its sales by 38% since 1991 and currently holds over 75% of the Parmesan Fondue market in Quebec.
To meet its high standards of quality, the company relies on the competence and drive of its staff of twenty-five. Personnel training , quality control and client servicing are considered top priority within the company.
All ingredients used in the making of the products are inspected and analyzed, and meet very high government standards. The plant is actually equipped with a state-of-the-art laboratory which allows for strict control of the products' freshness.
Les Aliments Fondue Paysanne also applies the food industry's total quality standards, using stainless steel equipment and a metal detector that checks the finished product. The company has recently filed a H.C.C.C.P. application–a first step towards accreditation for ISO 9000 quality standards.
The St-Nicolas-based plant also stands out due to its fast client servicing via a well-structured distribution network, its range of fresh and varied products, as well as its continuous and innovative research and development work. With its latest creations, light parmesan fondue, jalapenos fondue, lobster fondue, italian fondue and salmon fondue with a specially shape at the fondue, the company is showing just how important it considers consumers' needs.
After conquering the Quebec market, Les Aliments fondue Paysanne is now ready to tackle the Ontario and United States markets. Taste tests have revealed the American's great enthusiasm for the product, which has prompted the company to invest $700,000 in the plant's expansion and in the purchase of new equipment. This project will coincide with the launching of innovtive products to be exported as early as next fall.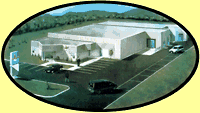 Throughout the recent years, Les Aliments Fonue Paysanne's team has seen its efforts well-rewarded. Various prizes and certificates for outstanding achievement confirm the company's position as leader in the market. Still today, Les Aliments Fondue Paysanne inc. is constantly seeking new challenges and its creativity seems boundless.
REINVENT THE ART OF ENTERTAINING
Discover the variety of La Paysanne Parmesan Fondues (breaded cheese nuggets) and reinvent the art of entertaining! Made with top quality ingredients, these fondues are ready in less than ten minutes.
Since they are low in fat, these Quebec products are the perfect healthy choice for all occasions. As snacks, appetizers or part of a main dish, these fondues are sure to delight everyone.